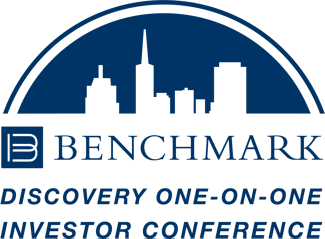 Thursday, December 7th | 8:00 AM - 3:00 PM ET
Hosted at The New York Athletic Club
180 Central Park South, New York, NY 10017
Please join us for our 12th Annual Discovery One-on-One Investor Conference in-person at the New York Athletic Club. This unique conference format is designed to promote meaningful interaction between presenters and institutional investors from around the country
.
For conference questions, please contact:
Evangeline Wilson, Event Director
P: 212.312.6713 E: ewilson@benchmarkcompany.com
Or contact your Benchmark Company representative.
B2I DIGITAL, Inc. is a marketing sponsor of the 12th Annual Discovery One-on-One Investor Conference. B2I DIGITAL, Inc. is not an affiliate of Benchmark and is not authorized to represent or act on behalf of Benchmark, in any capacity. Benchmark has not reviewed and approved the content contained on the b2idigital.com website. Content about any specific company was provided and approved by that company. B2I DIGITAL, Inc. has not independently verified the accuracy of the information contained herein. No content contained herein shall be considered an offer to solicit the sale of any security.